That was the A+A in Düsseldorf!

Thank you for visiting this specialist fair for personal protection and occupational health and safety. 

Perfectly protected with DEHN.
DEHNcare WJP - protective overall against high-pressure water jets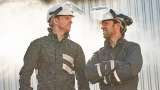 1,000 bar? Can your PPE take it?
DEHNcare WJP (Water Jet Protection) is the first protective overall tested according to test principle GS-IFA-P15 to offer protection against high-pressure water jets.
Abrasion- and cut-resistant. Tested up to 1,000 bar.
Not only that! It is also comfortable to wear because it is breathable, light and ergonomically tailored, leaving the wearer to concentrate on the job at hand.
NEW - Accessory WJP foot protection
High-pressure-resistant socks offer basic protection in the foot region. When worn in safety shoes, there is no need for gaiters. Just pull them on and you're done. Safe is so simple.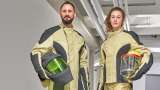 Maximum protection and unrivalled comfort
DEHNcare personal protective equipment unites the two.
It is tested in compliance with international standards and comprises
a safety helmet for electricians, protective gloves, jacket and trousers
or coat. DEHNcare is comfortable and safe so that your employees
can concentrate their whole attention on their work.
Try for yourself at our booth
Seize the opportunity at the trade fair and test the latest
generation of arc-fault-tested visors.
Clearer than ever before - for even greater work safety.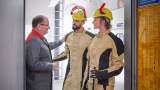 Work according to the five safety rules
Working in and on electrical installations can be life threatening. To prevent electrical accidents, please observe the five safety rules of the German standard series DIN VDE 0105!