Surge protection – for seamless processes in hospitals.
A carefully planned surge protection concept is a central component of lightning protection and is especially important in medical facilities such as hospitals. In particular, the effects of direct and indirect lightning strikes must be taken into account. After all, the electrical and electronic systems in the hospital are vital for patients. Since they are simultaneously a part of the advancing digitalisation processes, it is imperative that these systems function reliably. With surge protection, you ensure that the dangerous interference energies are broken down to an acceptable level and thus no longer pose a hazard.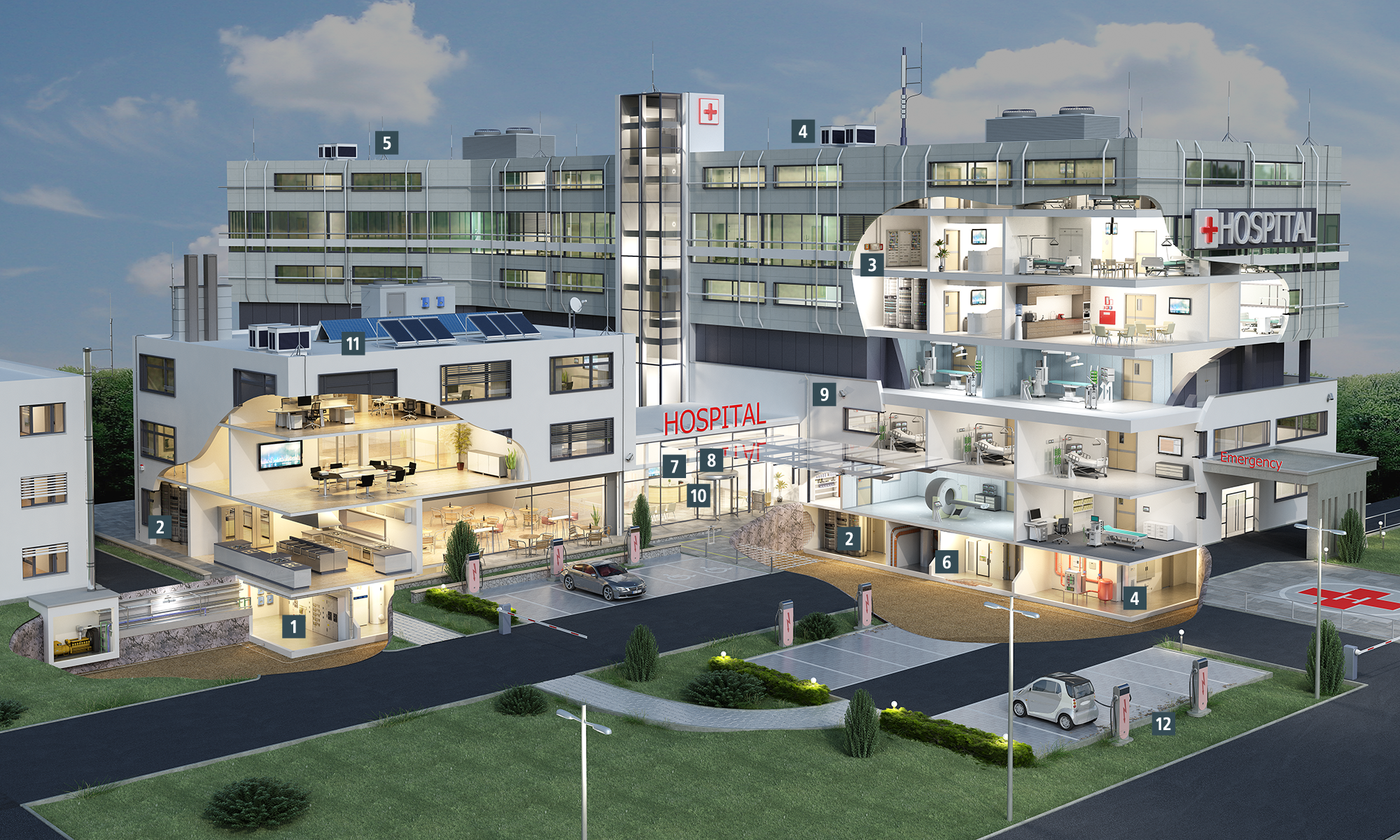 How to plan surge protection for hospitals correctly.
Lightning equipotential bonding plays a particularly important role in buildings with an external lightning protection system. This must be carried out for all conductive systems leading into the building from the outside according to DIN EN 62305-3. In addition, you should consider an EMC-based lightning protection zone concept according to DIN EN 62305-4 for the protection of sensitive components during planning.
Surge protection devices are divided into lightning current arresters, surge arresters and combined lightning current and surge arresters. Lightning current arresters and combined lightning current and surge arresters that implement the transition from lightning protection zone 0A to 1 or 0A to 2 are subject to the highest requirements with regard to discharge capacity. These arresters must be able to conduct partial lightning currents of the 10/350 μs waveform without causing damage in order to prevent destructive partial lightning currents from entering the electrical system of a building.
At the transition from lightning protection zone 0B to 1 (or downstream of the lightning current arrester at the transition from lightning protection zones 1 to 2 and higher), surge arresters are used to protect against overvoltages. Their task is to further attenuate the residual energy of the upstream protection stages and to limit the overvoltages induced in the system or generated there themselves.
Important information for download
DEHNselect
Find the required solutions for your project in just a few steps. With DEHNselect, you can easily select the standard-compliant surge protection for hospitals - whether for new buildings, conversions or modernisation.
To DEHNselect